Legislative drafting and ePublishing (LDeP)
The Office of the Queensland Parliamentary Counsel (OQPC) was established under the Legislative Standards Act 1992, to support government and democracy by drafting and publishing legislation for Queensland. OQPC's vision as stated in its Strategic Plan 2012-16 is to be an organisation 'committed to excellence in Queensland legislation'. Core services are delivered through the Legislative Drafting and ePublishing service (LDeP). The results from its annual survey of stakeholders on how LDeP delivered on strategic objectives for 2013–14 are provided below:
Service standards
Notes
2013–14
Target/Est.
2013–14
Est. Actual
2013–14
Actual
% client satisfaction with legislative drafting services provided by the Office of the Queensland Parliamentary Counsel
85%
100%
100%

% client satisfaction with the quality of access to legislation available online

85%
95%
95%

% of operating budget utilised in delivery of service

1
99%
100%
99%
This measure has been discontinued for reporting purposes as it is not an indication of the efficiency or effectiveness of the service area.
2013–14 major achievements:
Queensland legislation is of the highest standard and the legislative drafting service is efficient and effective
Delivered the government's legislative program within timeframes for new and amended principal and subordinate legislation:

92 Bills (7,133 pages)
365 instruments of subordinate legislation (4,270 pages)
44 government amendments to Bills debated in Parliament (479 pages).

Prepared nine Bills (121 pages) for non-government members of Parliament.
Supplied 19 non-government amendments (58 pages) for Bills debated in Parliament.
Reviewed, on behalf of the Queensland Government, national scheme legislation drafted for the Australasian Parliamentary Counsel's Committee.
Drafted regulations as the host jurisdiction for the Heavy Vehicle National Law.
Developed and implemented a comprehensive business improvement plan to improve processes in delivering the legislative program, leadership development, work/life balance and organisational performance.
Installed WiFi throughout OQPC to allow greater efficiencies for clients while instructing or attending meetings in the office.
Updated the Queensland Legislation Handbook to assist policy and instructing officers.
Continued the staged publication of Principles of good legislation: OQPC guide to Fundamental Legislative Principles.
Delivered six training sessions for 81 agency policy officers who work with OQPC on legislation. The training was provided at no cost to agencies and designed to help participants prepare high-quality and effective drafting instructions.
Contributed to the reduction in regulatory burden by drafting the required legislation and facilitating the work of the Office of Best Practice Regulation and Queensland Treasury and Trade in analysing legislative page and requirement counts.
Readily available Queensland legislation and legislation information
Prepared 1,302 electronic reprints (251,774 pages) and 154 information publications (7,322 pages).
Provided fully authorised electronic copies of Queensland legislation.
Introduced online notification of the making of subordinate legislation.
Significantly reduced the waiting time for updated Queensland legislation for customers:

91.31% of changed current law accessible within 24 hours of any changes taking effect.
1.04 days waiting time for access to current law (down from 2.5 days in 2012-13 and 6 days in 2009).

Enhanced the user friendliness of the legislation website.
Provided a legislative information service (368 email queries and 477 hotline calls).
Progressed the eLegislation Project to deliver enhancements to legislative drafting and publishing and public access to Queensland legislation.
Other activities
Supported the Youth Parliament, including providing assistance with the supply and publication of Youth Bills.
Participated in the Australasian Parliamentary Counsel's Committee ICT forum in Wellington, New Zealand in July 2013.
The OQPC website www.legislation.qld.gov.au experienced over 5.88 million visits in 2013–14, a significant increase on past years.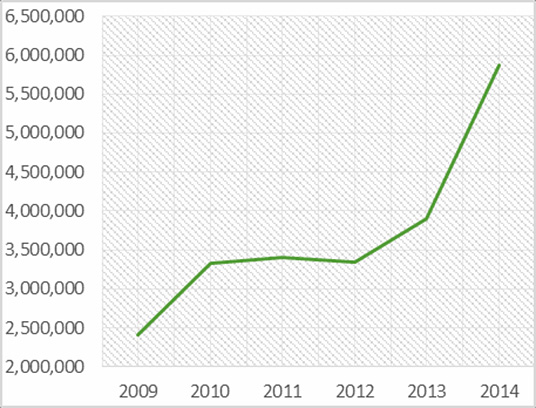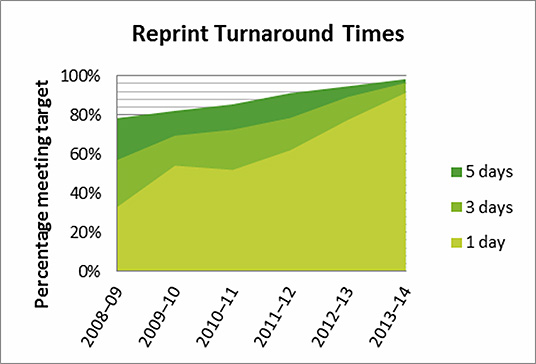 Significant primary legislation drafted included:
Four Bills to tackle organised crime in Queensland
Biosecurity Act 2013
Child Protection (Offender Reporting) and Other Legislation Amendment Act 2014
Education and Care Services Act 2013
Environmental Offsets Act 2014
Family and Child Commission Act 2014
G20 (Safety and Security) Act 2013
Liquor (Red Tape Reduction) and Other Legislation Amendment Act 2013
Public Guardian Act 2014
Public Safety Business Agency Act 2014
Regional Planning Interests Act 2014
In 2014–15 OQPC will:
continue to provide high quality, accurate and timely drafting and publishing services to support delivery of the government's legislative program
continue to provide expert assistance to agencies as part of the government's red tape reduction initiative
launch the Queensland Integrated Legislation Lifecycle System (QuILLS) to:

greatly improve public access to authorised Queensland legislation and legislative information via a new website
streamline legislative production and publishing processes
establish an industry standard data repository for the Queensland Statute Book through converting current legislation files to eXtensible Markup Language (XML) format, which is in line with open data objectives, and will also enhance electronic access to Queensland legislation and legislative information.