Department of the Premier and Cabinet
The Department of the Premier and Cabinet (DPC) is the Queensland Government's lead agency, dedicated to serving the Premier and Cabinet, developing well researched policy and facilitating the delivery of the government's priorities for the benefit of all Queenslanders.
DPC's role and functions
About the department
Since 1859, the Department of the Premier and Cabinet (DPC) as the Queensland Government's lead agency has administered and managed the government's key priorities and responsibilities.
We provide whole-of-government leadership, advice and resolution, operating in an environment that is open, transparent and accountable. Our unique position enables us to successfully harness the collective strength of government, industry and the community.
On 1 March 2015 we welcomed Arts Queensland and the Corporate Administration Agency into our portfolio, as part of machinery of government arrangements. On 12 March 2015, the Public Sector Renewal Board was dissolved. Consistent with this decision implementation of Commission of Audit activities and other Public Service Renewal activities also ceased.
Through collaborative relationships with internal and external government agencies, DPC is equipped to provide considered strategic support that drives the policy agenda and delivers the best outcomes for Queenslanders.
DPC keeps a whole-of-government line of sight when addressing issues – clearing the path for new ideas and igniting passion and energy. Ideas need to be developed in consultation and DPC will keep looking to and drawing on the expertise of other agencies, the private sector and academia to tackle the hard issues and find innovative solutions.
Measuring our success is undertaken in several ways. Results and feedback establish baselines and present evidence on areas that DPC should concentrate on implementing improvement that increases confidence.
In 2014 our client survey was again undertaken to gauge key clients' satisfaction results with DPC's 2014–18 Strategic Plan key performance indicators. Ministers indicated a 100 per cent level of satisfaction rating with services provided by DPC, with Directors-General, Cabinet Legislation and Liaison Officers and Senior Policy Officers indicating a 95 per cent level of satisfaction.
DPC primarily operates out of 100 George Street, Brisbane and delivers its services through the structure outlined in the organisational chart (page 3).
The Premier's ministerial portfolio also includes the Public Service Commission, the Office of the Governor, Office of the Integrity Commissioner, Queensland Family and Child Commissioner and the Queensland Audit Office. (For further information, please refer to each agency's Annual Report.)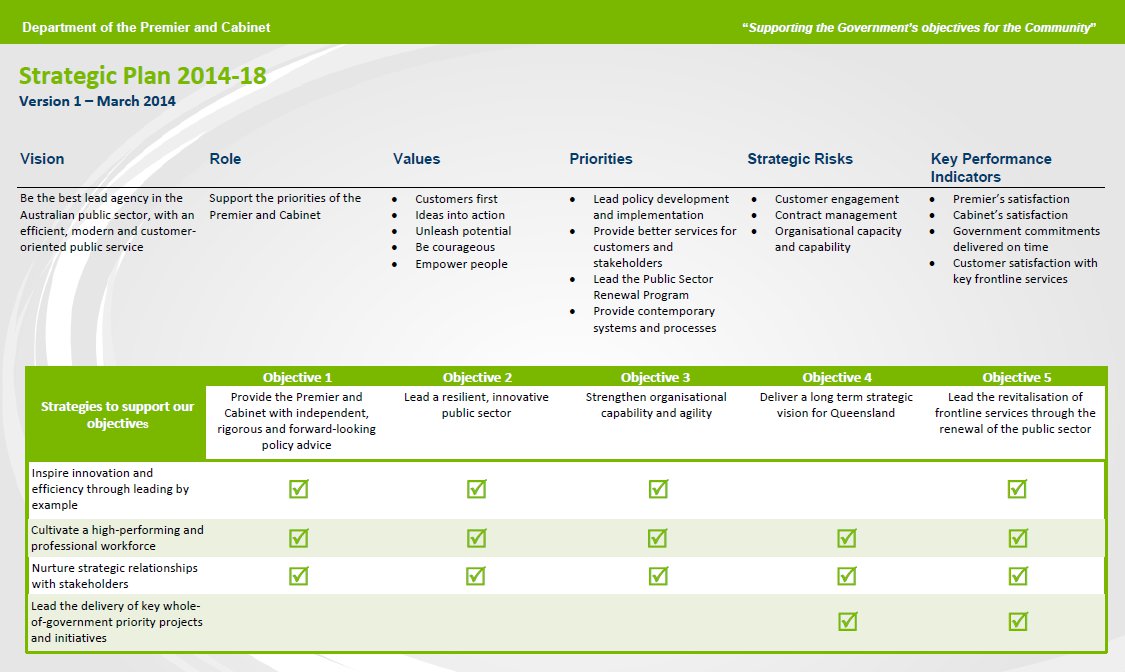 ---